Since 2003, RemoteScan
has been the accepted standard in
hassle-free scanner connectivity.
RemoteScan Supports:

Scanners with EMR & EHR software.
Scanners with Freight and Transportation software.
Scanners with Financial and Accounting software.
Works with any document management system.
Works with all modern document scanners, and supports:
Page Feeders.
Card Scanners.
Duplex Scanning.
Slides/Transparencies.
High capacity scanners.
Server 2008 with any TWAIN scanner.
All versions of RDP protocol.
All versions of ICA protocol.
Citrix® Scanning.
VMware®
Customizable Interfaces.
Automatic Installation.
Available in 6 Languages.
Automated Templates for scanning consistency.
Compressed Image Transfer.
Convert any scanner into a full-featured Network Scanner.
Customers in 120 Countries.

For Windows® operating system.
---
For the Windows® operating system.
RemoteScan is a trade mark of Quest Software, Inc.
Windows and Microsoft Office are registered marks of Microsoft Corporation.
Citrix is a registered of Citrix Systems, Inc.
Neoware and the Neoware logo are trademarks of Neoware Systems, Inc.
Wyse and the Wyse logo are trademarks of Wyse Technology, Inc.
Other trademarks are the properties of their owners.
RemoteScan® Enterprise for TS/CX allows any user in a Terminal Services or Citrix® environment to scan directly into hosted applications.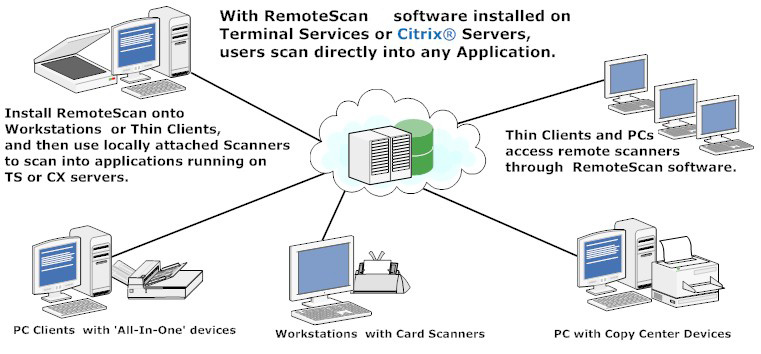 ---
Software is provided instantly as a download link. Use your scanners with Terminal Services or Citrix &reg now.
RemoteScan® software has a user friendly installation script and installs easily onto PC's or XPe Thin Client devices. Any type of Scanner can then be connected directly to PC's or XPe Thin client devices, and users can then scan directly from their own scanners into any application running on Terminal Services / Citrix® / XenDesktop Open Desktop Servers.


RemoteScan® also works with network copy centers, letting users access high-speed, collating scanners through applications running on remote servers. In addition, through RemoteScan's scanner sharing functionality, PC users as well as CE and Linux Thin client users can access the scanners that are attached to other computers.


Licensing: Each computer or thin client which is attached to a scanner must have a purchased RemoteScan license be legally used. In addition, any end-user PC or Thin Client, which uses RemoteScan software to access a scanner, must have a purchased license.There is no charge for the components of RemoteScan which are installed onto the Terminal Services or Citrix servers. The example diagramed above would require the purchase of 7 RemoteScan Enterprise TS/CX licenses: one license for each PC or Thin Client attached to a scanner, plus licenses for each PC or Thin Client which access scanners through the Terminal Services/Citrix server.

Click here to purchase RemoteScan® for TS/CX.